In the ever-evolving business landscape, establishing and nurturing a strong organisational culture and talent management strategy are essential to remain competitive. We are delighted to present our groundbreaking solution, the Organisational Development Maturity Model, designed to guide your organisation through the different stages of growth and optimisation. This innovative tool revolves around three transformative stages: Evolve, Stabilise, and Maximise. At the heart of it all, we emphasize the significance of appropriate values, culture, structures, people practices & policies to ensure long-term success.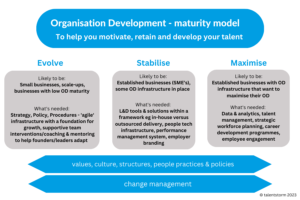 Evolve – Building a Solid Foundation:
The Evolve stage caters to organisations in their earlier stages, including Small and Medium-sized Enterprises (SMEs), that have started on their organisational development journey. During this stage, we focus on implementing foundational tools and solutions. Having a clear strategy and policy and procedure framework will serve your organisation well, providing an infrastructure for growth. If growth is rapid, then supporting with team interventions and appropriate coaching and mentoring as leaders in the business adapt.
Stabilise – Nurturing Sustainable Progress:
The Stabilise stage is recognising organisations that may be well established, and have elements of their Organisational Development infrastructure in place.  Here it is about further development in that infrastructure and having clear frameworks in place to support decisions around solutions eg in-house versus outsourced delivery. Also automating solutions for scaling eg appropriate digital solutions for training and performance management. This stage can be a busy one requiring extra capacity and external support in implementing appropriate systems. It's not too soon to consider an external view point in terms of your employer branding efforts also.
Maximise – Unlocking Peak Performance:
In the Maximise stage,  businesses may already possess a solid OD infrastructure but aspire to unlock their full potential. The emphasis shifts here to data-driven strategies and analytics, enabling you to optimize talent management and strategic workforce planning. Here it is about bringing it all together to understand any gaps that are left, and filling these gaps with solutions. For example, implementing cutting-edge career development programs that are targeted around specific talent needs. Additionally, delving deep into employee engagement strategies to ensure a motivated and enthusiastic workforce that thrives on challenges. With our guidance, your organisation will reach new heights of success and achieve unparalleled performance levels.
The Power of Values, Culture and Structures:
Throughout all three stages – Evolve, Stabilise, and Maximise – we emphasize the importance of fostering strong organisational values and culture. By aligning your structures, people practices & policies, and implementing effective change management strategies, we ensure that your organisation embraces a future-oriented and adaptive mindset. These essential elements act as the backbone, supporting your organisation as it navigates through the dynamic business landscape, securing sustainable growth and success.
The OD Maturity Diagnostic can help you identify where your organisation is at
The Organisation Development Maturity Model is your compass to navigate the journey towards a thriving organisational culture, effective talent management, and unparalleled success. We have designed an OD Maturity Diagnostic to help you identify where you are on that journey. Whether you are just starting to Evolve or aiming to Maximise your OD efforts, our diagnostic questionnaire can help you work out your roadmap so that you stay ahead in today's competitive business world. Embrace the power of aligned values, culture, structures, people practices & policies to unlock the full potential of your organisation.
Book a call today , we'd love to talk you through our OD Maturity Diagnostic, and set you on the path to transform your organisation!