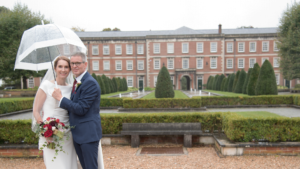 Sometimes we have to jump right into something new. My Dad used to liken it to going swimming, it's not much fun if you stand on the edge and dip a toe in, you have to dive in and get wet all over.
So I did – not only did I get married, I have relocated to the Netherlands. The last few months have been a juggling act of work, planning a wedding and a relocation, amidst viewings to sell the house.
Now that I have landed (and yes we had a fabulous wedding day with lots of family and friends followed by a few days in Sicily), I'm excited to be in a new city – Eindhoven, famous as the birth-place of Phillips, and also for its football team, PSV – I'm able to start on the next chapter.
I've set up my new Dutch business entity, so I can trade here in the Netherlands as well as in the UK and am all set to go. I'm still servicing clients in the UK, and as there's only one-hour time difference I'm making the most of telephone and skype meetings.
Although it's early days for me in the Netherlands and I'm still finding my feet – I'm enjoying a new challenge and learning so much every day.
Weddings and moving aside, 2019 has been an interesting year so far – here's a round-up of what I've been working on:
Coaching at the forefront:
I was able to take my coaching practice to the next level by taking part in a supervision group. Our regular meetings allowed for deep work, incorporating action learning and application of group coaching techniques, so check out our new coaching offer – coaching for individuals or groups, or support with mentoring programmes and workshops.
Equality & Diversity:
There has also been a continuing demand for equality and diversity related work, with a focus on transgender awareness. I conducted an equality audit for a client, developing my own tool for the purpose, and delivered custom-made follow-up workshops. What was unique about this project was that the equality issues were focused around customer experience rather than an internal employee experience.
Learning & Development support:
We forged new partnerships and now are the UK and European partner for LearningPlanet's online video library of 200+ microlearning videos  allowing training to be carried out at line manager level rather than just the domain of the Training team. My presentation on Modern Learning Methods went down really well with a group of Learning and Development and HR Heads, sparking lots of thought and discussion.
Management qualifications:
In addition, I am continuing to support delegates with CMI qualifications – providing coaching to those that are working independently to complete their assignments.
I've started networking here in Eindhoven, already I've had a warm welcome and have found some great groups to join so I can create new working relationships. More than ever now though I value my networks back 'home' – so if there's anything you think we can do for you, or if you just want to say hi, do get in touch!
Rachel x